Comprehensive Dental Care for Your Entire Family by Cosmetic Dentist in Sacramento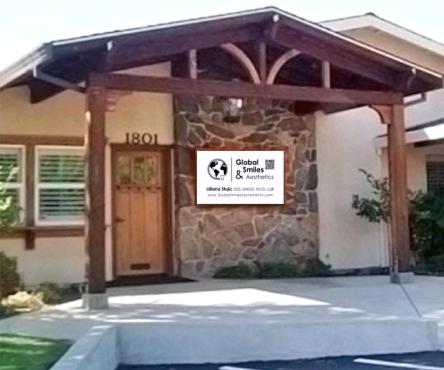 Healthy teeth and gums play a vital role in your life. Oral hygiene, healthy diet and routine dental visits are three main things that can protect you from oral health problems and let you have your teeth for a lifetime. At Global Smiles Dentistry your smile is most valuable to us and our dentists do everything possible to keep it healthy and appear the best. Our cosmetic and general dental procedures are aimed at preventing dental problems, curing infection and enhancing the beauty of your smile. We strive to create ways for good oral health and help every patient who visits our office achieve his/her dream smile. Call us to make an appointment and meet Dr. Lilliana Stojic.
Dental Care with the Comforts of Home
Our Cosmetic dentists believe that dental care should be an integral part of life for a healthy living. We aim at educating patients about the importance of oral care and we do it in a friendly environment. Our office is designed to feel like home. We strive to make patients feel comfortable during their visit to our practice and motivate them towards taking care of their health. We believe our treatment to be complete only when patients are relaxed, well-informed and they actively take part in their dental procedure at our place. By passing on valuable information about how to care for teeth and gums we aim to reduce the chances of dental problems. This ultimately can improve the quality of life.
One Stop For All Your Dental Needs
Our cosmetic dentists treat most of the dental problems. We take care of the gums, the teeth and the bite and all this is done under one roof. Since general dental needs are taken care of, it is very rare that a patient has to look for another place for dental treatment after visiting our office. We are equipped with high-end technological equipment and a skilled team to offer quality treatment. Our team led by Dr. Lilliana Stojic is highly enthusiastic about taking care of patients and all their dental needs.
Dental Treatment Offered At Our Sacramento Office
Our dentists offer a wide range of treatments covering different fields of dentistry. Cosmetic dentistry Procedures, General Dental Procedures, Restorations and periodontal treatment are all offered at our dental office.